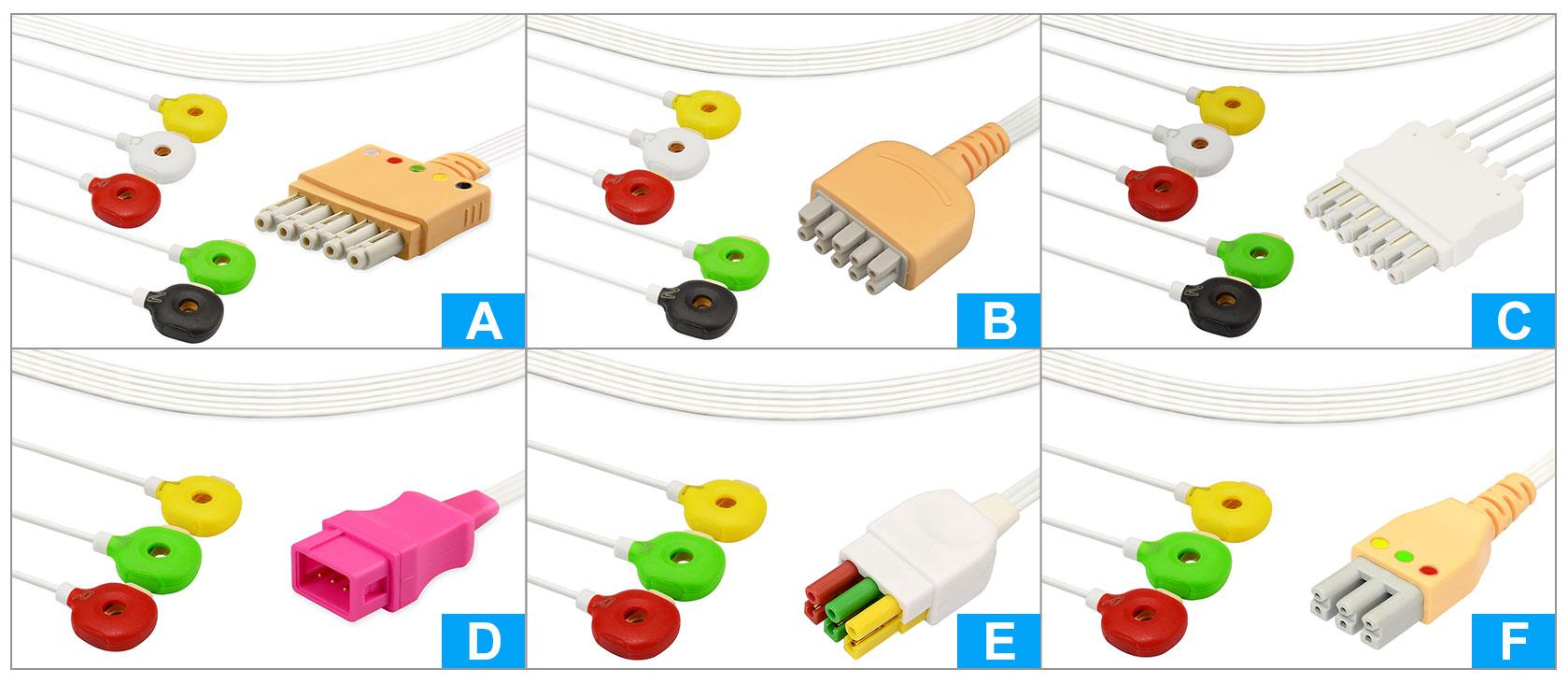 Market conditions
★ One study in the US found that 77% of reusable ECG leads were contaminated with at least
one antibiotic-resistant pathogen even after they had been cleaned and prepared for the next
patient
★ Each year in the United States, patients contract nearly 1.7 million infections in the hospital
while they are being treated for something else. These Healthcare-Associated Infections (HAI's)
result in nearly 100,000 patient deaths per year.
★ Clinical alarms have been identified as one of the top 10 technology hazards.
The American Journal of Emergency Medicine reported that 99.4% of monitor alarms were
determined to be false and less than 1% of monitor alarms resulted in a change in patient
management.
Product Advantage
Photo
Feature
Benefit
Single Patient Use
Patient to monitor protection that
decreases the risk of cross
contamination and improves patient
care
Fully Shielded
Leadwires Design
Reduces the risk of Electromagnetic
Interference (EMI)
Peelable Ribbon
Cable Design
Prevents lead wire entanglement and
can be a customized fit to any patient
size
Side button and visual
connection design
Provide clinicians with a locking
and visualization mechanism to
achieve faster, efficient and firm
connections
Clinically proven to reduce the risk
of "leads off" false alarms
Easy to used electrode
colors Lightweight
smooth design
Easy and quick lead placement
Added patient comfort
Scope of Application
Work with the corresponding electrode and connect monitor in recording these impulses though
body surface.for anesthesia room, operating room, ICU, cardiology, emergency department.
Product Parameter
NO
Compatible
brands
Original NO.
MED-LINK
REF NO.
Specification
Photo
1
Philips
989803173121
EDGD040P3I
3 Leads,Snap,40in(1M),IEC
A
989803173131
EDGD040P5I
5 Leads,Snap,40in(1M),IEC
2
GE Healthcare
2052104-007
EED029P5I
5 Leads,Snap,40in(1M),IEC
B
3
Drager
MP00875
EQD040P3I
3 Leads,Snap,40in(1M),IEC
C
MP00879
EQD040P5I
5 Leads,Snap,40in(1M),IEC
4
Covidien
33103
END0403P3I
3 Leads,Snap,40in(1M),IEC
D
33105
END0405P5I
5 Leads,Snap,40in(1M),IEC
5
Datex
/
EHD040P3I
3 Leads,Snap,40in(1M),IEC
E
6
Mindray
0010-30-4290
EJD040P3I
3 Leads,Snap,40in(1M),IEC
F
EJD040P5I
5 Leads,Snap,40in(1M),IEC
*Declaration: All the registered trademarks, names, models, etc. displayed in the above content are owned by the original owner or original manufacturer.
This article is only used to illustrate the compatibility of the Med-Linket products. There is no other intention! All the above. information is for reference only,
and should not be used as a guide for the work of medical institutions or related units. Otherwise, any consequences caused by this company have nothing
to do with this company.
Shenzhen Med-link Electronics Tech Co., Ltd
Tel: (86) 755-61120299 | Oversea Dept: (86) 755-61120085 | Fax: (86) 755-61120055
Address : 4th and 5th Floor,Building Two, Hualian Industrial Zone, Xinshi Community, Dalang
Street, Longhua District, 518109 Shenzhen, China
Email: sales@med-linket.com | Website: www.med-linket.com
Next:
Exhibition Preview丨11.11 Medlinket invites you to visit CHINA HI-TECH FAIR to share a feast of health technology!
---
Post time: Nov-05-2020