Pluse Oximeter AM801
Product Name: Pluse Oximeter
Brand: Medlinket
Model No.: AM801
Specification: 31.5g,L*W*H:61*34*30.5(mm)
Display Parameters: 
SpO2, Temperature, Heart Rate, PR, Perfusion Index, Plethysmograph, PP, PPG
Sensor Type: Finger clip, Silicone, Silicone wrap, Ear clip, Y type Multisite
Applicable Person: Adult, Pediatric, Infant, Neonate
OEM/ODM: Yes
Quality Certification: CE, FDA, NMPA……
*For more product details, check out the information below or contact us directly
Product Detail
Application
Product Tags
Product Description:
Temp-Pulse Oximeter, fingertip pulse oximeter, Pluse Oximeter
Display Parameters:
SpO2, Temperature, Heart Rate, PR, Perfusion Index, Plethysmograph, PP, PPG
Measuring Accuracy:
SpO2: 90%-99%, ±2%; 70% to 89%, ±3%
Pulse rate: ±3bpm
Temperature: 25℃ to 45℃(77°F to 113°F):±0.1℃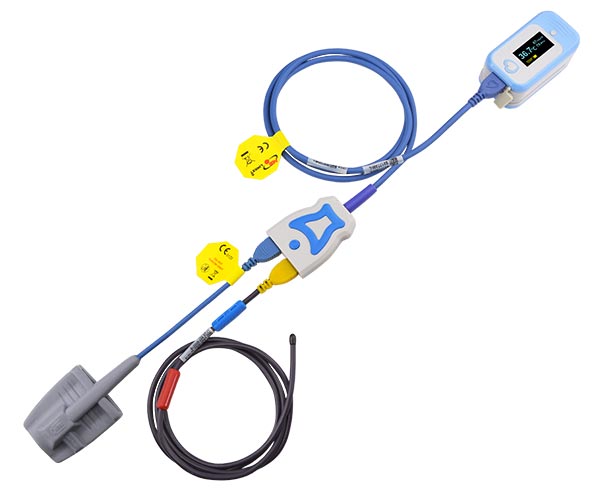 Medlinket Pluse Oximeter Features:
1. Compact size, easy to carry;
2. Rotate OLED Screen, Energy-saving: Convenient to read at different angles;
3. Continuous Monitoring SpO2 and Body Temperature;
4. Anti-shake Function:  imported chips , which can be measured under static and dynamic conditions;
5. Intelligent alarm, set the upper and lower limits of blood oxygen saturation/pulse rate/body temperature;
6. CE Approved, Medical Grade;
7. Separate external blood oxygen probe (optional), temperature probe, suitable for different people such as adult/child/infant/newborn;
8.Intelligent Bluetooth, one health transmission:Data Bluetooth transmission, docking Meixin Nurse APP, real-time record sharing and viewing more monitoring data.(Only applicable to Bluetooth oximeter)
If you need more information, please feel free to contact us: marketing@med-linket.com.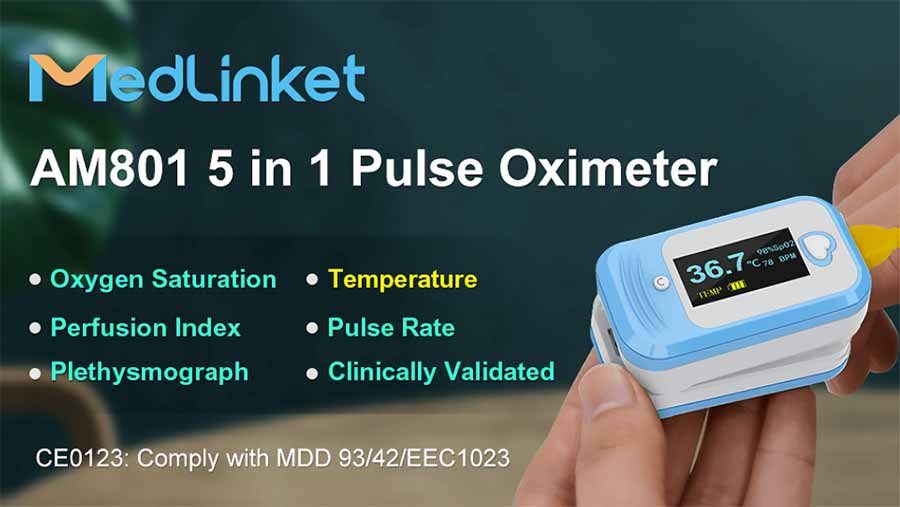 Customer Review(Verified Purchase)
Spanish customers
---
Previous:
AM-802 Pulse Oximeter
Next:
AM-601 Pulse Oximeter
---
Application Crowd
1. People with vascular diseases (coronary heart disease, hypertension, hyperlipidemia, cerebral thrombosis, …);
2. People with respiratory diseases (asthma, bronchitis, chronic bronchitis, pulmonary heart disease, chronic obstructive pulmonary disease, …) ;
3. The elderly over 60 years old have physiological aging of heart and lung organs, insufficient oxygen intake and poor oxygen supply ;
4. People who work more than 12 hours a day have increased oxygen consumption in the brain and the oxygen supply cannot meet the consumption;
5. Blood oxygen monitoring in extreme sports and alpine hypoxia environment;
6. Long-term alcoholics;
7. Newborns, screening for congenital heart disease and other diseases.
Application Scenario
Hospital rounds, social health centers, oxygen bars, fitness training places, families and individuals, etc.