Reusable Temperature Probes
Product Name: Reusable Temperature Probes
Brand: Medlinket
Applicable Person: Adult, Pediatric, Neonatal
Descriptions: 10 ft (3.0 m)
*For more product details, check out the information below or contact us directly.
Product Detail
Product Tags
Compatible Brand: 
| | |
| --- | --- |
| Compatible Brand | Original Model |
| YSI 400 | 409B、709B、 701、85409、YSI: 401GE、P/N:9445-004、YSI: 427Welch Allyn、P/N: 008-0756-00、YSI: 402GE、P/N:M1024251 |
| MINDRAY | 0011-30-37393、0011-30-37382、0011-30-37392、0011-30-37395(MR404B)、0011-30-37394 |
| Drager | 5204669、4329889 |
| PHILIPS | 21078A、21075A、21076A  |

OEM #: T1302, 040-000246-00, 040-000385-00, 040-000387-00, 040-000386-00, 5204669, 4329889, 01.15.040225, 01.15.040228, 01.15.040255, 01.15.0402256, 040-000057-00, 040-000055-00, 040-000058-00, 040-000056-00, 0011-30-37393, (0011-30-37382)(0011-30-37392), 0011-30-37395(MR404B), 0011-30-37394, 21078A, 21075A, 21076A, 20700-4000-00A, 409B,709B, 701,85409, YSI: 401 GE P/N: 9445-004, YSI: 427 Welch Allyn P/N: 008-0756-00, YSI: 402 GE P/N: M1024251, Ref: 092.059.600
Resister Type: 25 °C 6.867 KΩ, 25 °C 2.252 KΩ, 25 °C 10 KΩ, 25 °C 2.016KΩ, 18B20
Probe Type: Reusable Skin-surface Probes, Reusable Esophageal/Rectal Probe

Instrument Connector: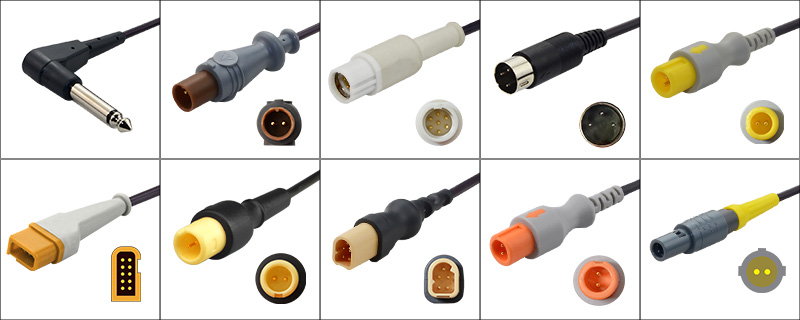 Product Advantages:
1. High precision: ±0.1 °C
2. Quick response
3. High performance noise ratio
4. Fully compatible with OEM technology
5. Complete product specifications
As a professional manufacturer of various quality medical sensors & cable assemblies, Med-linket is also one of the leading suppliers of Reusable Temperature Probes in China. Our factory is equipped with advanced equipment and many professionals. With FDA and CE certification, you can rest assured to buy our products made in China at reasonable price. Also, OEM / ODM customized service are also available.
If you need more information, please feel free to contact us: marketing@med-linket.com.
Hot Tags: Medical Temp Probe, Oral Temp Probe, YSI 400 Series Temp, Reusable Temperature Probe, Airway Temperature Probe, Monitor temperature probe
*Declaration: All the registered trademarks, names, models, etc. displayed in the above content are owned by the original owner or original manufacturer. This article is only used to illustrate the compatibility of the Med-Linket products. There is no other intention! All the above. information is for reference only, and should not be used as a guide for the work of medical institutions or related units. Otherwise, any consequences caused by this company have nothing to do with this company.
---
---