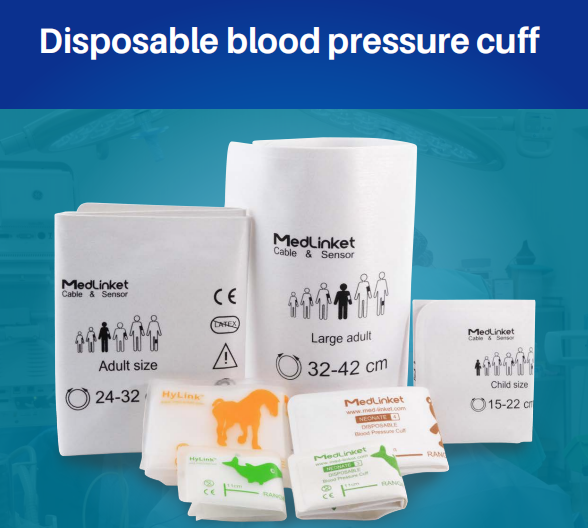 Med-link can provide blood pressure cuff matching a variety of monitor.
It can adapt to various brands and models of equipment in the hospital.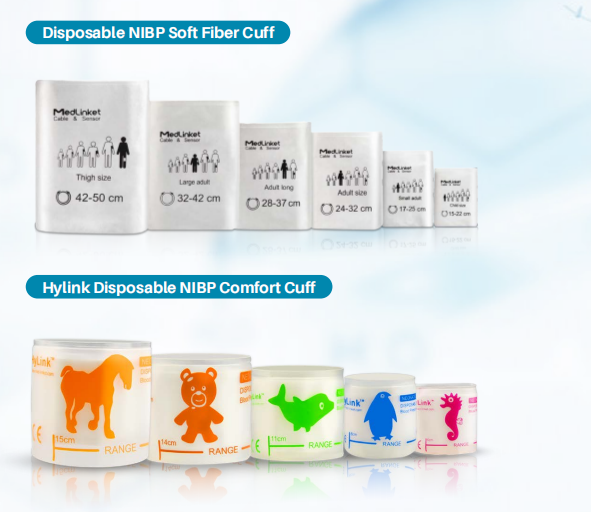 According to the 15th National Academic Conference on Hospital Infection Management, about 10% of the tens of millions of inpatients in China have hospital infection every year, and the additional medical expenses are about tens of billions of yuan. This nosocomial infection is not just in China. Studies by the International Medical Community in countries such as Spain and France have shown that about 6% to 12% of patients who are hospitalized develop nosocomial infections.
Therefore, it is very important to use clean consumables.
And if the consumables are reusable, they should be easy to clean and disinfect
Why should we use disposable blood pressure cuff?
1) In the United States, about 1.7 million patients are infected in hospitals every year; nearly 100,000 people die from it;
2) Reusable cuffs are potential carriers of pathogenic microorganisms;
3) The costs of treating nosocomial infection (HAI) are more than $20,000 per patient;
4) Medical insurance does not cover the cost of HAI.
Product Features:
★ Single patient use, avoiding nosocomial cross infection;
★ A wide variety of cuff connectors, can adapt to various mainstream monitors;
★ Single (double) tube blood pressure cuffs for adult, children, infant, and neonate of all ages are available;
★ Anti-static packaging can prevent textile static electricity from igniting the flammable gas in hospital;
★ The transparent design of the newborn cuff is convenient to observe the patient's skin condition; (Hylink series)
★ Easy to use, Universal range marks and indicator lines make it easier to choose the suitable cuff;
★ Soft and comfortable, good biocompatibility, latex free, DEHP free, no allergy to human body.
How to choose suitable blood pressure cuff
★Measure patient's limb circumference with a tape measure;
★According to the measured limb circumference, and refer to the table above, you can choose the appropriate blood pressure cuff;
★ If the limb circumference is suitable for more than one size or at a critical value, we should choose a larger blood pressure cuff.
Previous:
New Research Report Details the Cardiac Electrode Market with a Global CAGR of 4.5% to 2028 3M, VectraCor, ADInstruments
---
Post time: Nov-04-2022